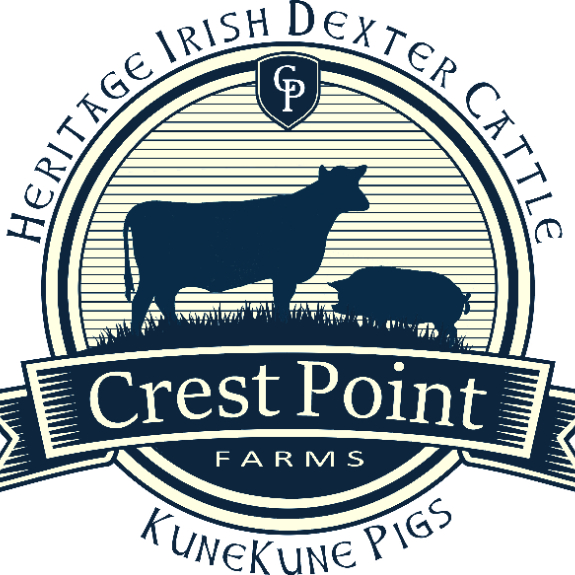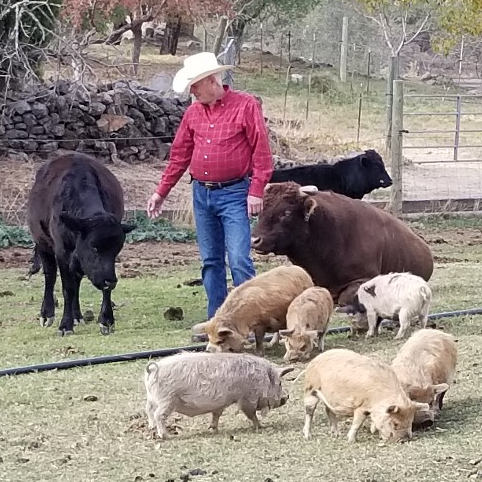 Crest Point Farms - Certified Organic
Contact: Bob & Carrie Curlee
Address: 17701 Crest Rd Grass Valley, CA, 95949
Email Address: crestpointfarms@gmail.com
About Us
Carrie grew up in Santa Clara County and is a third generation Californian. As a child, she would visit her Norwegian grandfather's ranch in the foothills of Los Gatos. It was a family homestead. She remembers driving up the gravel road between prune, apricot, and walnut trees, to visit each of her relatives who lived on and worked the ranch. It was a memory of warmth, love, and connection to the land and to the food provided by the orchards. Only, the orchards of Santa Clara County were bulldozed by the very technology companies her husband Bob worked for. His work with computer manufacturers was researching and discovering computers, how they worked and what new ways technology could be applied for solutions to real problems. This all sounded great to Bob. But technology literally changed the landscape of Carrie's beloved childhood. She wanted to move to a place where she could raise her children with the love for the land as she had known it. She often would say, "All I want are cows to raise, chickens to feed, and gardens for growing my own vegetables."

Fast forward to 2008. The Curlee family was charged to manage a beautiful 40 acre ranch in Grass Valley. It was time to leave the hustle and bustle of Silicon Valley and live their dream. All those skills learned during the formation of early Silicon Valley were to be applied to learning new solutions to farming, ranching - changing our views of agriculture to ones that actually benefit our planet. Carbon farming in the Gold Country foothills is still in its infancy. Bob constantly researches ways to practice regenerative agriculture and techniques to promote the soil biology to heal the land below ground. He feels this must be the foundation of every farm. It requires new thinking, new procedures and new approaches. These key ideas are what the Curlee family at Crest Point Farms embrace enthusiastically and are what they have known, having been intuitively engrained in Carrie's childhood and embraced by Bob's passion for learning.

Crest Point Farms is a USDA and California Certified Organic ranch raising heritage Irish Dexter cattle and artesian New Zealand Kunekune pigs, both sought after by high-end restaurant chefs. Crest Point Farms is a giant, self-sustaining solar panel powered by the bacteria, fungi, sun, carbon dioxide, water, perennial grasses, and livestock. This is a powerful system, in fact the only system, that eliminates carbon pollution from the air by capturing the carbon and sequestering it in the ground. Our mission is to continually innovate for environmental, social, economic and spiritual wellbeing of our animals, our farm, and you, our community. Farming this way cleans the air we breathe, purifies the water we drink, and enriches the food we eat. You can tell just how successful we are by tasting our beef and pork. 100% grass fed, 100% grass finished, 100% from Grass Valley, Irish Dexter beef and Kunekune pork are renown for their taste. A sister farm, Gladhour Farm, in Missouri, took the Grand Championship at the American Royal Steak Competion in Kansas City against all other cattle breeds submitting Irish Dexter, grass-fed steaks. The New Zealand Kunekune pork is also sustained solely on grass, acorns, veggies, and fruit, grazing pastures right out with the cattle. We believe this is the best tasting beef and pork, ever and invite you to taste the love!
Practices
Crest Point Farms practices regenerative, Holistically Managed agriculture coupled with carbon sequestration techniques using livestock to improve the air we breath, the water we drink and the food we eat.

USDA Certified Organic ranch – CCOF, sg129; California Department of Food and Agriculture State Organic Program (SOP) Registration Number: 29-008401, no-spray, non-gmo, organic ingredients, humanely raised, no steriods, no antibiotics, no pour-ons.