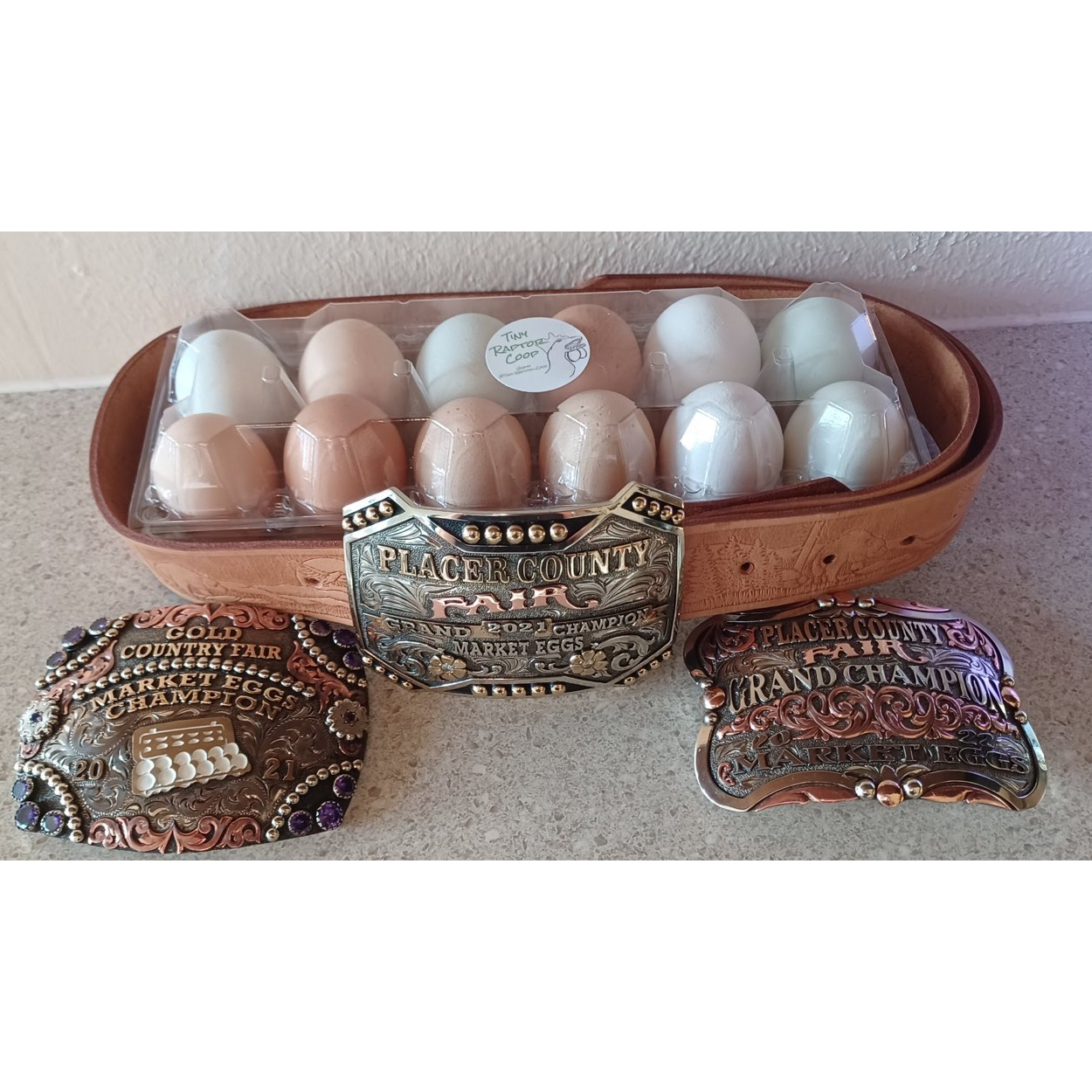 Tiny Raptor Coop
Contact: Jay Bennett (Parents Jeremy & Heidi Bennett)
, ,
Email Address: hbbennett@yahoo.com
About Us
Tiny Raptor Coop started when 10 year old Jay won Grand Champion Eggs at the Placer County Fair. Our family always knew our farm and chickens were special but were they champions? Maybe it was just luck. One month later Jay submitted another hen's eggs and again won Grand Champion at the Gold Country Fair with a different egg judge. She said they were the only USDA-AA grade eggs in the group of 13 contestants; being clean, fresh and fed well. At last count Jay has won three times (entering a pig instead at Gold Country this year) and is going for State Champion in 2023.

Jay is an artist at heart and loves updating the design for his coop. He started selling eggs by delivery route within biking distance from his home. The community of Loomis has been very supportive.

Our farm philosophy is rooted in permaculture where every person and animal has a job. Our chickens free range in the yard like pets. The family dog's job is to keep them company in the yard while being watchful to herd them off the patio. Our cats keep pests away and bird netting with homemade "chicken dams" keep piece in the garden. Our chicks have a big job too. They till the soil, fertilize the property and keep us company while we do farm choirs. Plus they provide delicious eggs!

Goals for the future involve further minimizing waste by re-purposing everyday objects around our home. Food tubs that would normally be thrown away become nesting boxes and feed store bags hold lawn clippings for composing. Currently our egg cartons are washable and can be reused to follow USDA guidelines for safe egg handing but we will eventually be transitioning to a recyclable cardboard.

Jay and his brother Mason (who has 'Three Roosters Coop') are both extremely responsible with our chickens making sure they are tucked in each night. They have never lost one to a predator. That's pretty impressive in the chicken world.

Jay is committed to good husbandry in the coop and has used what he learned in 4-H to gain his Egg Handlers Permit (#CA-10347). We are excited to share our products with you through The Farmers Marketplace.

Enjoy!
Practices
Free Range, Humanely Raised on Organic Feed and Grass with No Antibiotics. Our hens are treated like pets even after they age past production. Every new chick has a mother hen to start life with (vs. a light bulb). We are transitioning to eco-friendly packaging and soy/wheat free feed in 2023.