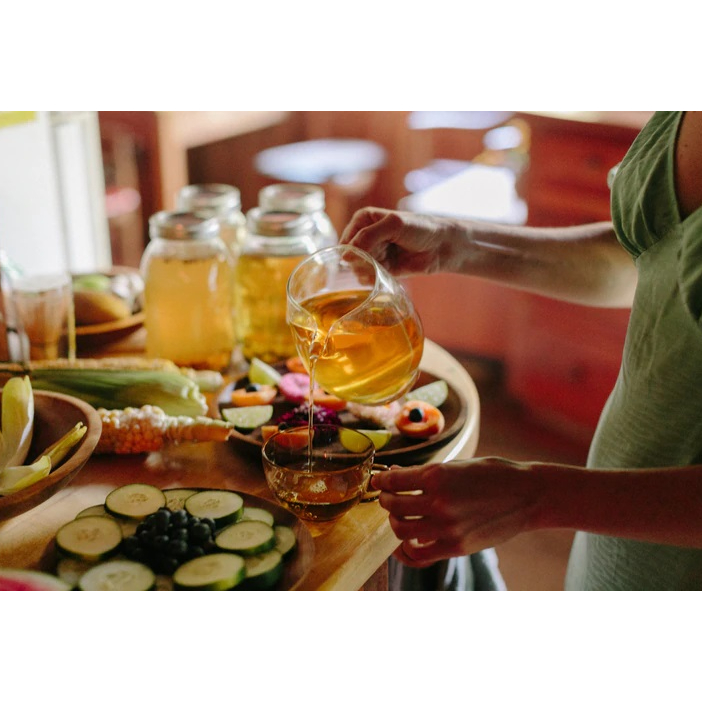 Anna's Tea
Contact: Anna Sullivan
City: Nevada City, CA,
Email Address: annas.ayurveda@gmail.com
About Us
Anna's Tea was born out of Anna Sullivan's love for herbs & the natural world. With this tea company, she desires to make herbal healing easy, accessible, & tasty to all people. With a background in Ayurvedic Healing & Herbalism, she has worked with clients one-on-one in clinical settings along with leading workshops in Yoga, Ayurvedic Healing, & healing through food. Anna considers making tea a routine of self-love that can transform and shift a person's life.

Ancient Ayurvedic Tea Blends for the Modern World. Each tea blend is rooted in Ayurvedic foundations to bring you closer to health with the wisdom of traditional medicine. Teas Infused with Rest, Ritual, & Resiliency to bring balance in an anxious world.

Immune System Teas - to prevent and combat illness while boosting your immune health.
Nervous System Teas - to combat overstimulation, burn out, fatigue, insomnia & anxiety.
Digestive System Teas - that help the body digest & assimilate nutrients. Used when you may have gas, bloat, constipation & stomach aches.
Reproductive System Teas - for people with wombs to assist their monthly cycles. Helps with cramps, PMS & hormonal imbalances.

Join the TEA PARTY!
Practices
Organic and sustainable, Anna's Tea commits to organic ingredients and eco sourcing. From our packaging to our herbs, we take every step to choose the most sustainable sources who prioritize the environment's health.

Organic
All herbs used are 100% Certified Organic from Pacific Botanicals, Starwest Botanicals and Mountain Rose Herbs.

Eco-Packaging
Each shipment is packed in a recyclable box with recycled packing material from Eco-Enclose. The tea tin can be re-used to store kitchen spices, sewing materials, rings, nails, etc.

Labels
The labels on the tin are Vellum which is a 100% recycled with post-consumer waste material. The label can be removed in hot water for easy re-use of the tin.

Company Mission
We believe in rest. We believe in listening to our bodies & allowing ourselves to be human. We take an outside of the box approach to what work means & want it to be sprinkled with inspiration & creativity whenever possible. We don't believe in "hustling" & other capitalist concepts that turn us into production machines and take us away from our humanness.

Inclusive
Anna's Tea is an inclusive brand made for all bodies. We make it a priority to use language & appropriate verbiage to include all types of people. We are always learning & stretching our umbrella, so please let us know if there is some way we have not made you feel included.

Made on Nisenan Land
We run Anna's Tea on Nisenan Land & honor the tribe by contributing to the Ancestral Homelands Reciprocity Program monthly. We encourage you to learn about the Native tribe who's land you are living on & acknowledge them through donation or another action that the tribe may be asking for. The website https://native-land.ca is a great place to start. Honoring the Native Tribe where you live is a part of re-writing white-washed history and annotating the record for future generations.

Donation to Color Me Human
A monthly donation is made to this local organization in Nevada County run by and for BIPOC (Black, Indigenous, People of Color). Color Me Human will resource, serve and center BIPOC in Nevada County, which is an 87% white county (2nd whitest in CA).