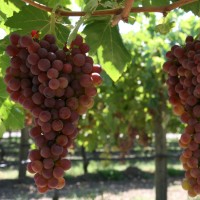 Capay Canyon Ranch - Certified Organic
Contact: Stan & Leslie Barth
City: Esparto, CA,
Email Address: purchasing@thefarmersmarketplace.com
About Us
Capay Canyon Ranch continues a long family tradition of farming and processing in California. Founded in 1972 by Stan and Leslie Barth, the business has grown from a strictly farming operation to include a handling facility. Today, joined by sons Todd and Tobin, and daughter Tirzah, we have expanded our processing capabilities, offering unparalleled quality and timely service to our buyers by drawing on an inventory of superior almonds harvested by a talented group of growers. Our integrated approach of farming, handling and marketing allows us to offer California almonds of the highest quality to a worldwide market.

They have been almond growers since 1972 and in 1982 diversified into organic flame table grapes. Each summer they harvest 10 acres of organic seedless red flame table grapes which are processed and packed on premise and sold to select local California co-ops, stores and farmer's markets. The grapes which do not sell fresh are sun-dried and available as their fantastic raisins.