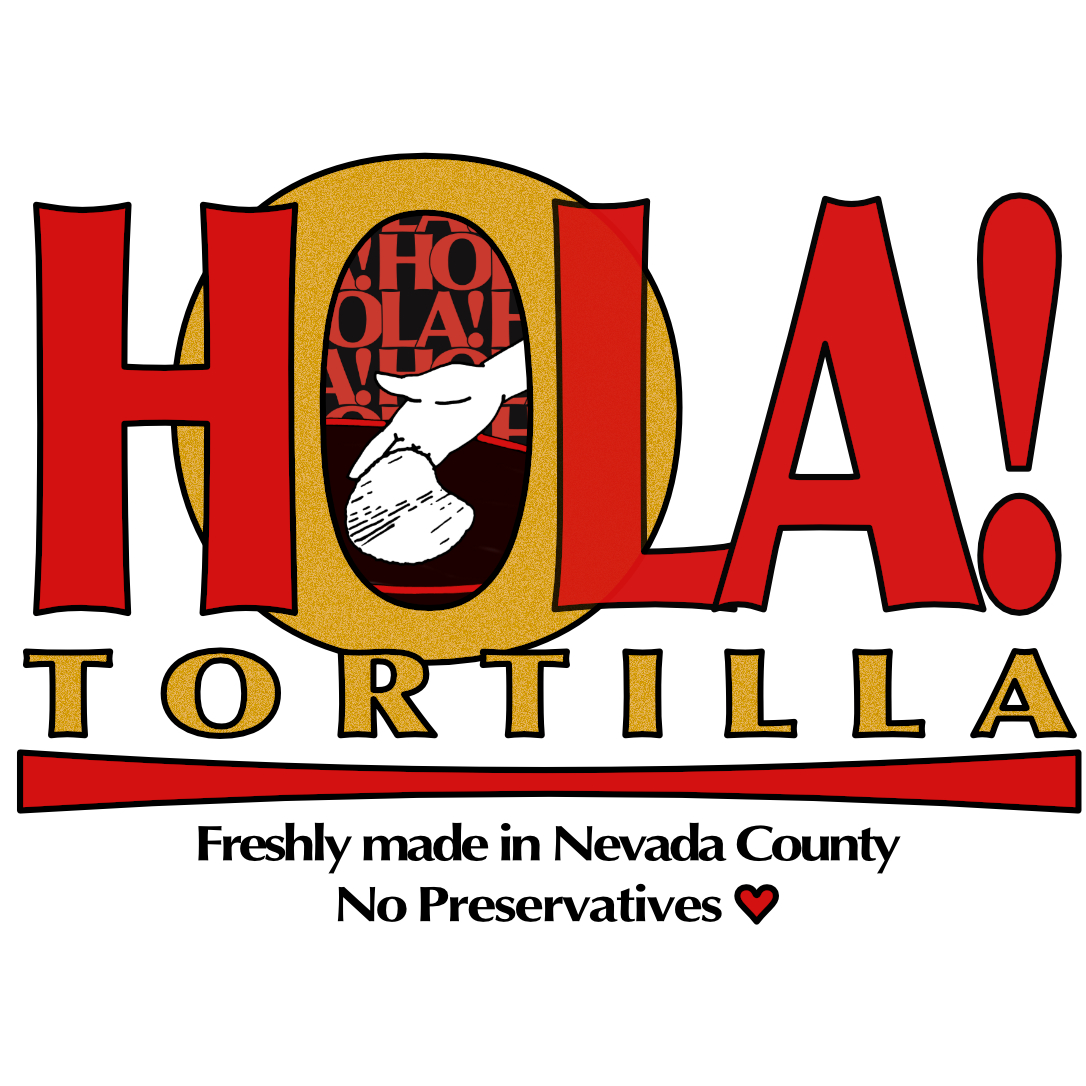 Hola Tortilla
Contact: Carmen Lang & Rene Sprattling
City: Nevada City, CA,
Email Address: autenticatortilla@gmail.com
About Us
"I can't believe there's no tortilleria in this town!"

Her husband's words echoed in her ears as they sat on the river bank eating their lunch.

Carmen knew she yearned for the quality tortillas of her native Mexico, and her husband understood the importance of quality food in their community! Together they knew just what was needed! Hola! Tortilla!

Carmen seized the energy of their epiphany and quickly moved forward with plans to make the tortilleria a reality. First on her to-do list was to find the perfect partner for this business venture. René Sprattling, friend and fellow ceramicist, quickly came to mind. It was easy for Carmen to imagine them working together with dough after having spent a decade together with their hands in clay. Mixing, rolling, pressing, and baking dough would surely come as naturally to them as if they were working with clay.

Carmen knew that René also shared her appreciation for good nutrition, delicious food, and healthy living. When Carmen proposed the idea to René it didn't take long for her to embrace the vision. René made the leap, put her studio work to the side, and asked her husband if he would be willing to have his office temporarily turned into a tortilla production space for their budding cottage industry. With his support, Hola! Tortilla was able to move forward.

Although Carmen is Mexican and grew up eating authentic tortillas, she didn't have the experience or know-how in making them. The two ceramicists were familiar with the science of ceramics and understood how crucial proportions were and how the consistency of the substance affects the final product. That said, there was still a significant learning curve. René says, " You just don't decide one day that you're going to open a tortilla business without any experience or knowledge" "We had to do a lot of research first. We read a thesis on tortilla-making, learned about the history of tortillas, and investigated how others approached the process".

Learning through trial and error was another important part of René and Carmen's development as tortilla bakers. René says, "There is a critical balance of plate temperature, dough temperature, and moisture content." The first samples rolled off the press in the form of flower tortillas, oval tortillas, and various other whimsical shapes.

Things soon got perfected, however, and they were ready to sell!

The first Hola! Tortilla sales took place in front of Treats of Nevada City and shortly afterwards made their way to the busy Nevada City Farmers Market. Seeing how excited their Saturday customers were to be getting fresh authentic tortillas, Carmen and René realized they needed to make them available daily, not just for wholesale customers, but for retail customers as well. Happily, they were able to secure the perfect shop and production space at 821 Zion St.

René and Carmen's enthusiasm for Hola! Tortilla is grounded in their desire to bring wholesome goodness to the households of their community. Carmen has the insider's advantage of knowing what a proper tortilla should be like and what it should not be like. For example, she says, "It should not taste sweet or have preservatives in it". "I know we're bringing something really good to the people. Tortillas available in supermarkets have been mass-produced for maximum profits and use ingredients that we should not be putting in our bodies. It's great to be able to produce our tortillas for a small population where we can have a positive impact on the community".

Story written by Marie Ellerby
Practices
We make corn and flour tortillas, using 100% organic ingredients without any preservatives. We're in the process of getting organic certified!