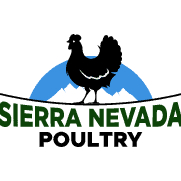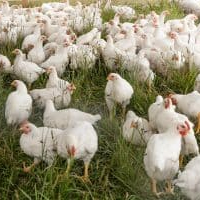 Sierra Nevada Poultry
Contact: Juan & Emilee Rico
City: Sacramento, CA,
Email Address: order@sierranevadapoultry.com
About Us
Sierra Nevada Poultry is a family-run company based out of Lincoln, CA. We really want to give your family what our family wants, which is affordable, clean, and healthy options for local poultry.

Our pastured birds are raised outside in chicken tractors, safe from predators, with full access to fresh air and sunlight! The tractors are moved regularly, providing a biodiverse selection of fresh bugs, weeds and seeds from the earth.

We work with a Northern California hatchery to ensure we receive the healthiest, happiest chicks. They are delivered to us overnight just after hatching to ensure a short transit time, minimizing the stress on the chicks. The chicks are then raised by us and are fed the highest quality feed we can provide. They NEVER receive antibiotics; they are not artificially bulked up in any way. These birds are raised the way they were meant to be raised, naturally. We believe a happy bird gives us the best end product. Poultry raised right!

Once the chickens reach an optimal size, they are humanely slaughtered and processed at our own USDA processing facility. By doing this ourselves, we ensure that all our hard work to raise them naturally isn't degraded by plumping them up with chemicals or added preservatives at processing.

We pride ourselves on exceeding industry standards when it comes to our processing facility. We had it custom build to meet our strict expectations ensuring all of our specifications were met. Taking these additional steps allows us to deliver the highest quality finished product that we can provide.

The APPPA (American Pastured Poultry Producers Association) says that pasture raised birds are simply healthier. They tend to be higher in iron, higher in Omega 3, Lower Omega 6:3 ratio and higher in antioxidants. Simply put, it's better for you! It tastes better too, but don't take our word for it, try it out!
Practices
Pastured raised means the birds are raised on the grass, with fresh air, sunlight, and with plenty of space to move around freely. Our birds are raised in Chicken Tractors. These birds are our premium product and you won't be disappointed with the taste!

We spent a long time sourcing the best feed for our chickens. We finally found one that met our standards, it's a Non-GMO, Soy free, corn free feed that we LOVE. Our pasture birds also love to eat lots of bugs, weeds and seeds that they forage for in their outdoor tractors. We have also found they LOVE kale, and treat them with it every chance we can.

We do not vaccinate our birds. They don't receive anything that nature hasn't provided.